Enjoys Chilean food merger of international flavors in this restaurant of the Portal Bulnes that waits for you with a varied menu of preparations. Its table of conviviality, connected with the kitchen opened and incorporated into the central dining room, is the perfect scene to live through an experience of flavors with plates as the Sternum of Lamb, Madmen in sauce of green onion with little potatoes bewitching mayonnaise or the Mere gilding with ravioli of pumpkin, sauce of orange and vodka.
Another excellent option is the innovator Risotto of beetroot with blue cheese, hopeful pears and little green leaves in balsamic vinegar . And certainly, a sure bet always will be the "Conger eel Caldillo". Central dining room also offers a list of organic wines, handcrafted beers of the house and its Grappa Chilean and Peruvian Sour. And for the dessert, dare with the Fondue of chocolate with ice cream and seasonal fruits or the traditional Watermelon with brown flour.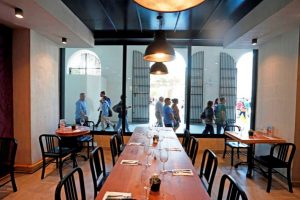 Phillips, 3, Santiago.
---